The average cat lover shouldn't have trouble finding the right products to beautify their home – there's a lot out there in the way of cat-themed home decor, and it's growing almost every day! In a recent update, we've discovered the perfect cat gift to dry your hands, while adding a little extra character to your kitchen or bathroom! Introducing the long kitchen or bathroom cat towels, which make the perfect hand towels for any admirer of these feline friends. Each of these kitten towels has its own look and personality, all equally adorable.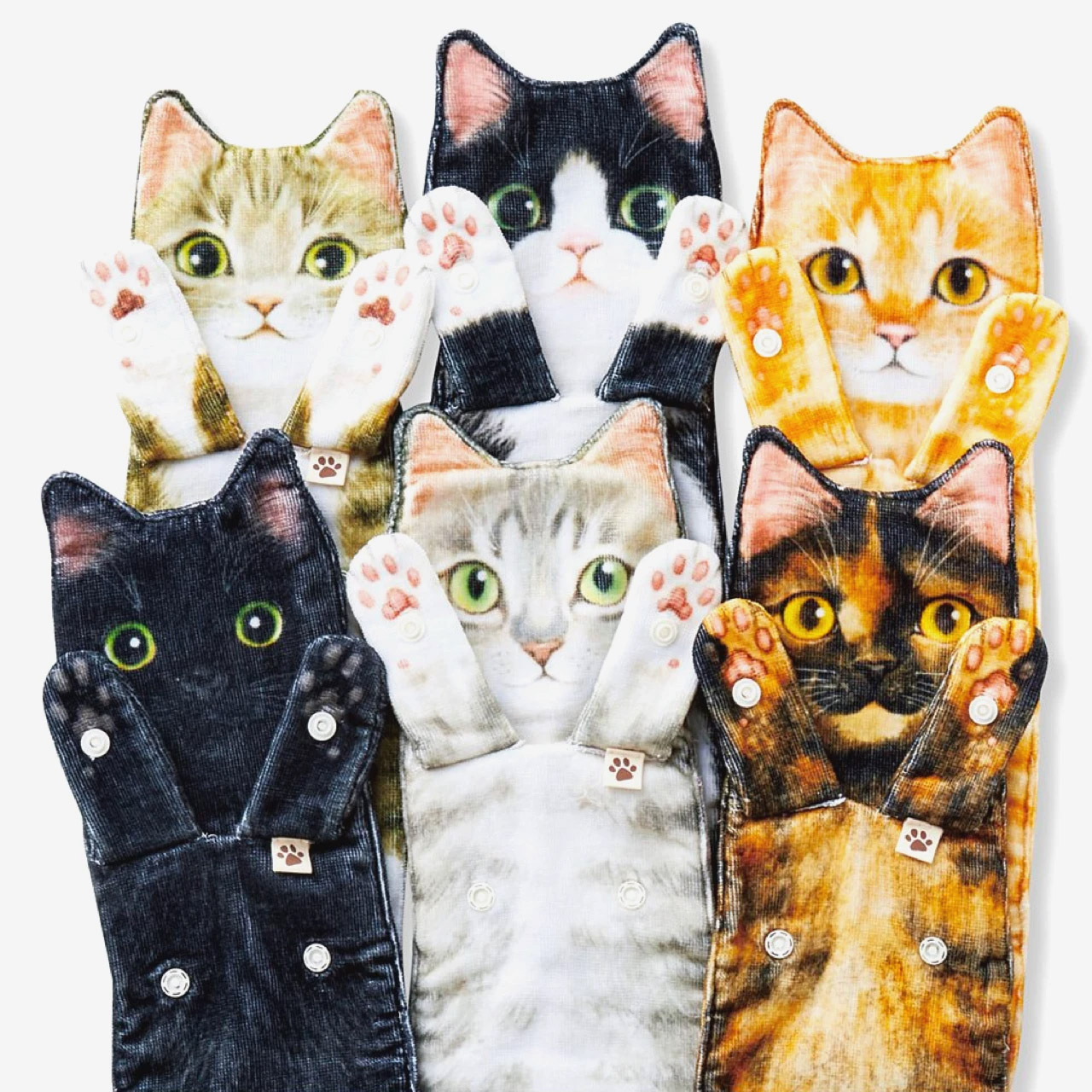 Features:
-- Environmental reactive dye process, making it safe for babies, children, and adults.
-- The whose cat body length is revealed the moment they hang from the towel bar.
-- It can be repeatedly washed without bending, abrasion, curling, shedding or other types of degradation.


Design: Long cat shape hand towels. Tail and paws are cute with a realistic pattern that makes you want to hug them even though they are towels.
Multi-use: Good absorbency. The fabric glides smoothly over your skin wicking away moisture quickly. Can be used as a bath towel, hair towel, etc.
Occasion: Comes with 4 hidden buttons, easy to hang these handkerchiefs. Suitable for bathroom, kitchen, yoga room, home, apartment, so on.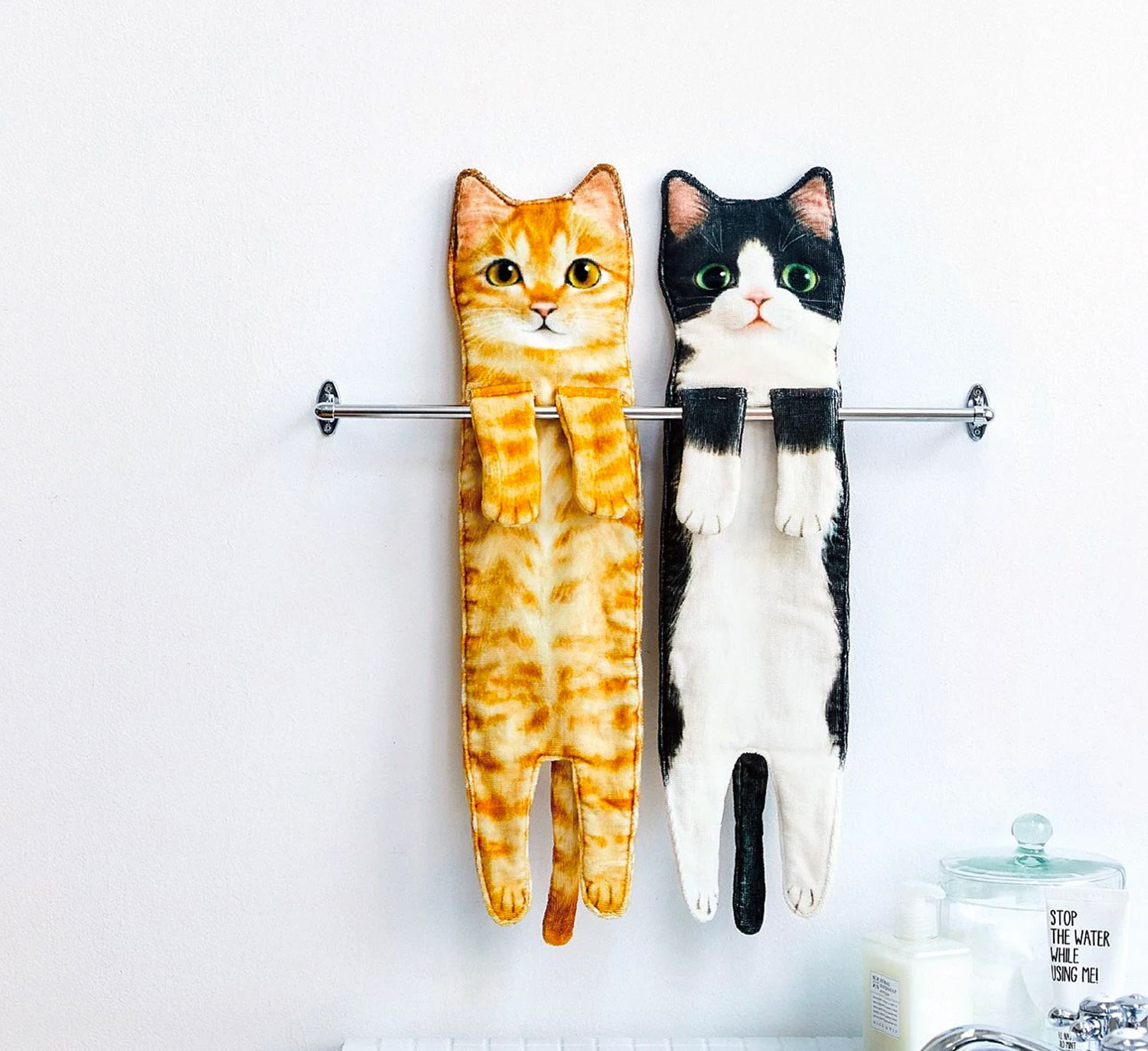 Using soft cotton towel material and beautiful cat designs, these feline hand towels are super sweet, and will definitely help add some fun to your day-to-day life. These cute kitten towels feature snap buttons on their paws, which you can use to help them cling onto any bar you want, in any kitchen or bathroom. They also have cute long tails which, from the front side perspective of the towels, hang just a little longer than their legs.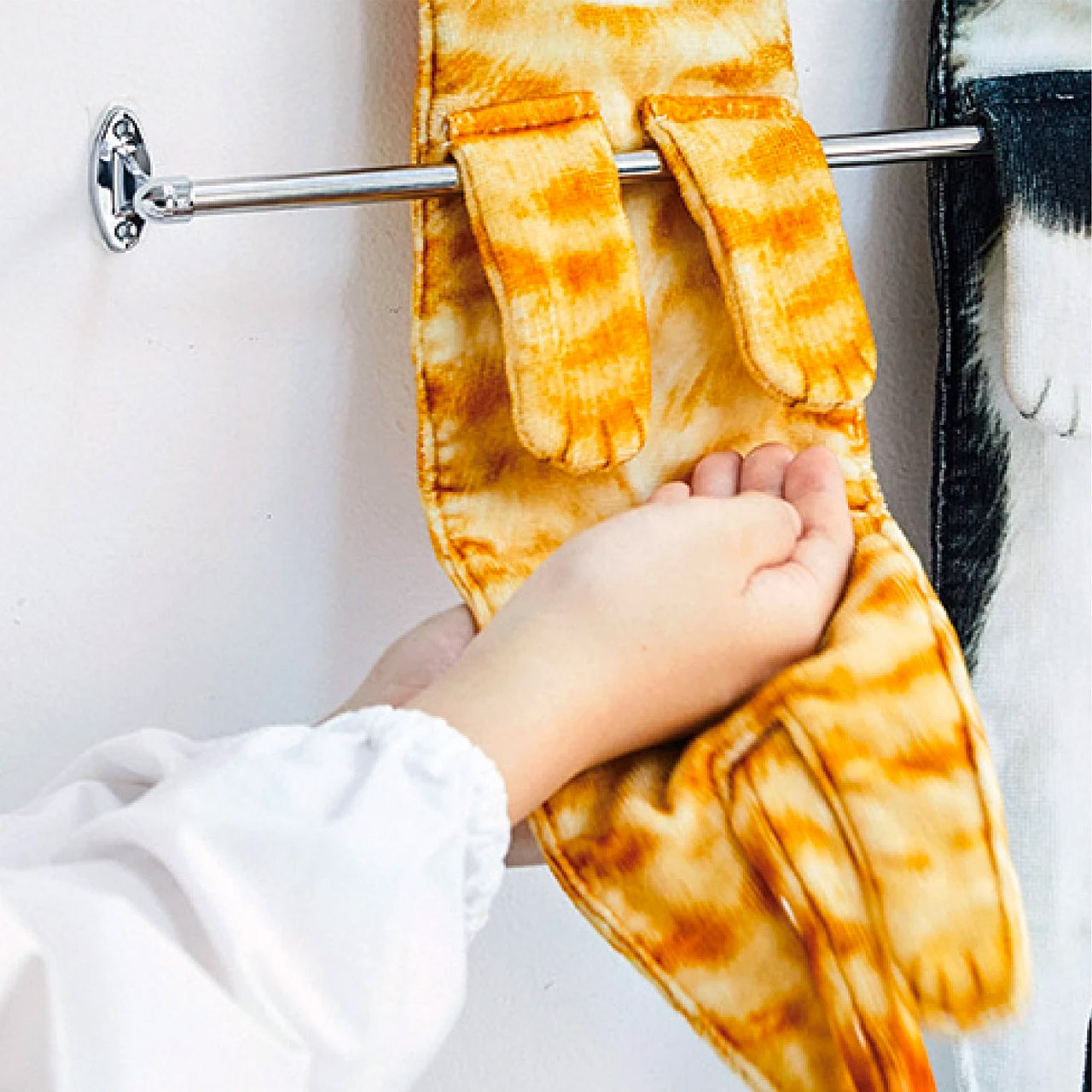 Measuring roughly 21 inches long by 5 inches wide, these kitchen cat towels are the perfect size to use individually, paired up with each other, or simply beside your boring, regular kitchen or bathroom towels. Whether you choose to use these cat hand towels in the bathroom, the kitchen, or somewhere else, they're sure to add a little joy to your day!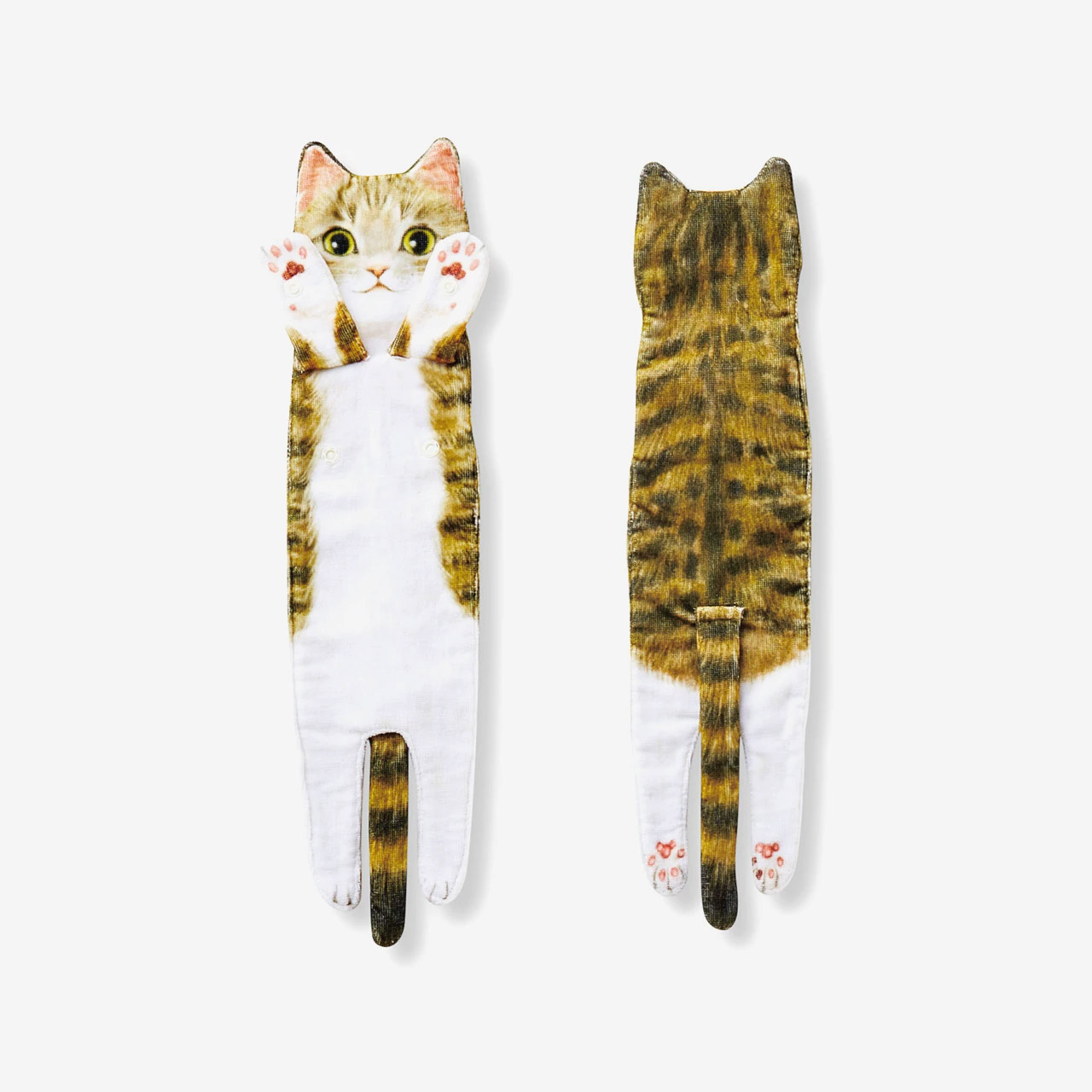 For anyone who has a current kitten at home or a beloved cat that has passed which they want to honor with these kitten hand towels, you can choose from six different breeds to match a number of cat appearances: Calico Cat, British Shorthair, Black Cat, Dragon Li, Tabby Cat, or Orange Tabby.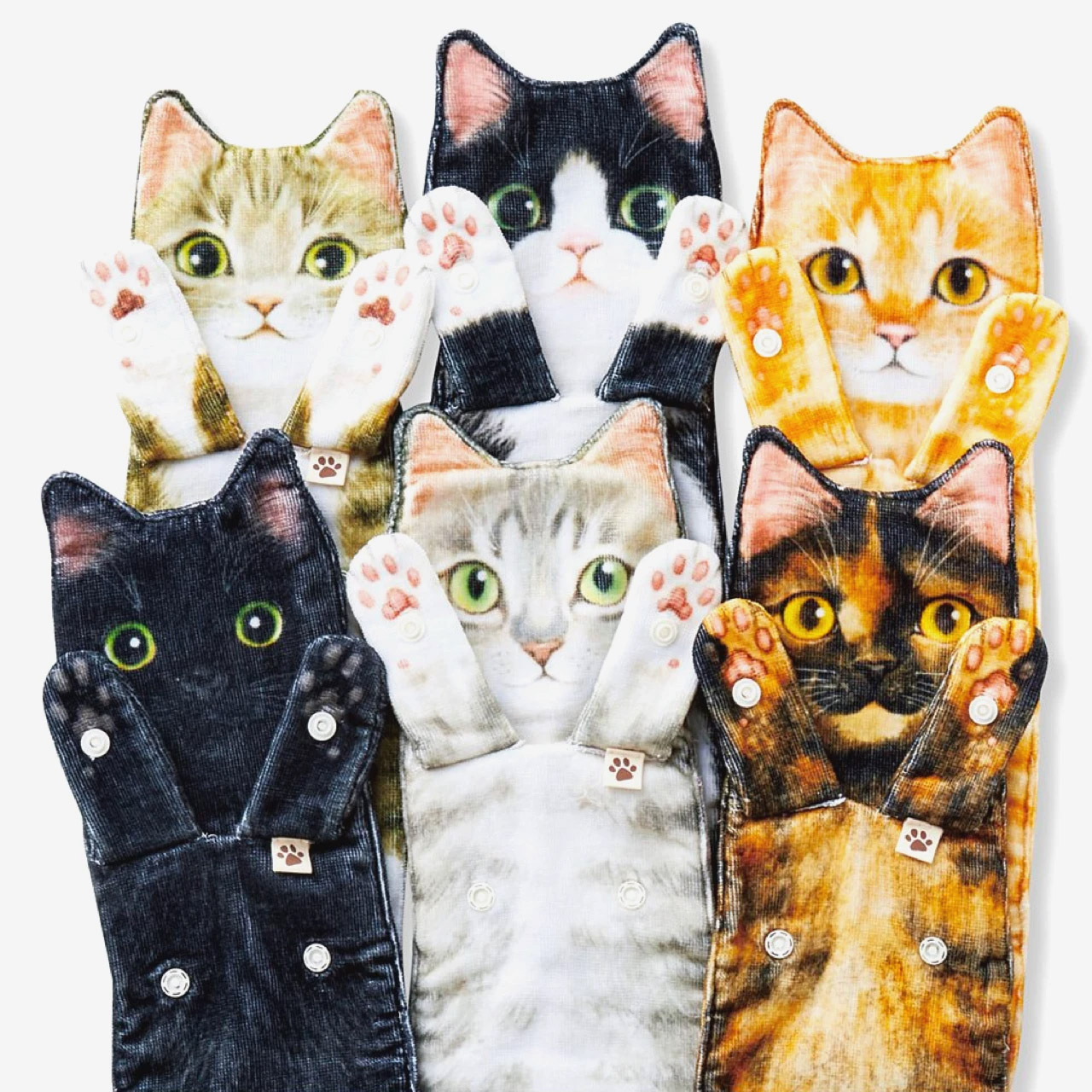 Alternatively, the six different cat breed hand towels can also be used to simply match the color of your kitchen or bathroom, or to choose your personal favorite breed or breeds. Now you can enjoy your moments of hand-drying with a mental "meow" directed at your most-beloved new kitchen cat towel.